Tuesday, January 19, 2021 – Members Quarterly Meeting
Recent Developments in Employment Law & Litigation
5:30 to 7:30PM
Presented by Emily McGrath
This meeting open to members and non-members.
This meeting will be held virtually and we will log on at 5:30 p.m. to socialize and catch up. The meeting will begin at 6:00 p.m. Zoom invites will be sent out on Monday, January 18th, 2021
About Our Guest Speaker
Emily is a dedicated employment litigator who has been exclusively representing California employees in court, arbitration, and negotiations against their employers since 2013. Before joining Lawless & Lawless, Emily was a misdemeanor trial attorney at the San Francisco Public Defender's Office. Emily attended law school at University of California, Hastings College of the Law. While there, she served as an Executive Editor for the International and Comparative Law Review, a Constitutional Law teaching assistant, and a professor's research assistant. Emily also externed with Magistrate Judge Joseph C. Spero and published an article on surrogacy contract regulations during her third year.
RSVP by Friday, January 15th, 2021 to program@sflpa.org.
Tuesday, January 26, 2021 – Brown Bag Webinar
Justice Department Seeks to Incarcerate Foreign Defendants in White-Collar Cases
12:30 – 1:30p.m.
Presented by Marc Siegel, Partner at Jones Day
As if straight out of a James Bond movie, sometimes the scariest of all criminals may be wearing Christian Louboutin shoes, Burberry suits and speaks several languages. Don't be fooled by the glamorous facade. These criminals are just as dangerous and are stealing from the public more than you realize. In his presentation, Mark siegel, Partner at Jones Day, will explain why these fraudulent crimes are serious and how the department of Justice works to protect us.
LPI Day of Education – February 6, 2021
Three live webinars offering a total of 2 hours of MCLE credit and 3 hours of CCLS credit!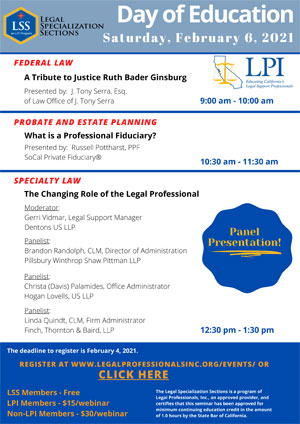 A Tribute to Justice Ruth Bader Ginsburg
9:00 a.m. – 10:00 a.m.
Presented by: J. Tony Serra, Esq.
Our speaker, J. Tony Serra, Esq., will give a behind the scenes look at the late Justice Ginsberg and her many contributions towards women's rights, her major decisions, and her biography.
J. Tony Serra, Esq. is a Graduate Stanford University, Philosophy Graduate Boalt Hall, Law Review
Has practiced criminal defense for over forty years, specializing in jury trials.
Tony Serra has spent his life defending society's outcasts. He began his practice in the 1960's, an era he calls the golden age of law. Perceiving himself in the role of a warrior, Mr. Serra has continued to battle for more freedom for more people through law. His role in the Chol Soo Lee case was depicted in the film True Believer. Tony Serra has always known how to express the poetry of the law, while fighting in the ditches and dark alleys of legal practice. He has gained national prominence for his closing argument techniques.
Over the past 30 years Mr. Serra has spoken to hundreds of professional organizations on various legal issues in multiple forums in 14 different states.
What is a Professional Fiduciary?
10:30 a.m. – 11:30 a.m.
Presented by: Presented by: Russell Pottharst, PPF of SoCal Private Fiduciary®
Mr. Pottharst will be discussing the in's and outs of being a private fiduciary and duties of the private fiduciary.
Russell Pottharst, Principal/Owner, is an independent Private Professional Fiduciary (PPF), California license #752, and doing business as SoCal Private Fiduciary®. He holds two certificates in Professional Fiduciary Management − for Trustees and Conservators − from California State University, in addition to his Tulane cum laude undergraduate and Loyola MBA degrees. Russell is a former bank trust officer, a National Certified Guardian, and is licensed and bonded in the State of California. He consults with individuals, families, business clients, health & tax professionals, and attorneys who practice in the Superior Court of California in family and probate matters. He holds memberships in CRF, LACBA, PMI; and his fiduciary practice encompasses the greater Los Angeles regional area.
Russell maintains his Project Management Professional PMP certification with the Project Management Institute to facilitate business consulting with various types of for-profit and nonprofit organizations who need an experienced management professional to accomplish operational, financial, technical, and other business and community objectives.
Moderator:
Gerri Vidmar, Legal Support Manager
Dentons US LLP
Gerri Vidmar is the Legal Support Manager at Dentons. Gerri's legal journey started 42 years ago as a legal secretary. In 2014, she transitioned into her current position. Gerri is responsible for managing the legal support staff in Dentons San Diego and Phoenix offices. Having worked as a litigation secretary for several years, she understands the demands placed on present day legal professionals.
Gerri currently serves on the Board of Directors for the San Diego Chapter of the Association of Legal Administrators. Gerri previously served as a board member of San Diego Legal Secretaries Association from 1994 – 1997. In 1995, Gerri was named SDLSA's Secretary Cum Laude. In 2018, Gerri was the recipient of SDLSA's Boss Cum Laude award.
In her leisurely time, Gerri enjoys spending time with family and friends, kickboxing, strength training and reading.
Panelist:
Brandon Randolph, CLM, Director of Administration
Pillsbury Winthrop Shaw Pittman LLP
As the Director of Administration for the firm's San Diego offices, Brandon Randolph provides leadership and support for Pillsbury attorneys in their relentless pursuit of our clients' goals.
Brandon has led various law firm teams for over 15 years with a focus on the construction and maintenance of high-performing teams. Brandon works to foster growth and accountability among those with whom he interacts. Brandon is well-versed in law firm administration and operations, including human resources, finance, information technology, marketing, facilities, support services and strategic planning. Prior to joining Pillsbury, Brandon was the Regional Director of Operations for a West Coast-based, full-service firm's Los Angeles and Orange County offices.
Panelist:
Christa (Davis) Palamides, Office Administrator
Hogan Lovells, US LLP
Christa Palamides began her career as a legal secretary. She worked exclusively in family law for 20 before moving into law firm administration. Christa has over twenty-three years of experience as a law firm administrator. She considers time management, organizational skills, attention to detail, and problem solving to be just some of her strengths.
Christa is a member of the Golden Gate Chapter of the Association of Legal Administration. She is also a member of Legal Professionals, Inc. (formerly Legal Secretaries, Inc.), and was President in 2008.
Working as about as close to a dream job she can get, Christa is the Office Administrator for the San Francisco and Silicon Valley offices of Hogan Lovells, US LLP.
Panelist:
Linda Quindt, CLM, Firm Administrator
Finch, Thornton & Baird, LLP
Linda Quindt is a Certified Legal Manager (CLM) and Finch, Thornton & Baird, LLP's first and only Firm Administrator. As a member of the management committee, she is responsible for regular collaboration with the partners and implementation of the policies and procedures necessary to achieve established goals. Day-to-day duties include the oversight of administrative, technological, financial, legal support, and business development initiatives. Linda also works tirelessly to enrich the firm's employee-centric culture and ensure Finch, Thornton & Baird is a top-choice legal career destination. Linda emphasizes people skills development combined with managing for efficiency. The firm has more than doubled in size since her 2003 arrival.
Having worked for or managed law firms large and small since 1981, Linda is always apprised of the latest industry developments, including those opportunities that may improve firm processes, workflows, and efficiencies. Well respected by her peers, she maintains excellent relationships with the essential business partners that are vital to the delivery of the highest quality legal services to our clients.
Linda is the face of the firm at many client and legal community events, too. She is an active volunteer in the Association of Legal Administrators (ALA)® on both a local and international level and in the Associated General Contractors, San Diego Chapter. Linda prides herself as a mentor to the employees at the firm, members of ALA, and the students she teaches at UCSD Extension Paralegal Program.
Tuesday, February 23, 2021 – Brown Bag Webinar
Immigration Change

12:30 – 1:30p.m.
Presented by Lucy Fong Lee
We have heard in the news and social media regarding immigration policy lately. Now let's get
the expertise on this subject! This Brown Bag presentation will go over topics such as the impact
of immigration in the workplace, business, family, and why it matters.